Several years back a friend of mine who also works in tourism shared with me her experience of vacationing in her home city dubbed "staycation".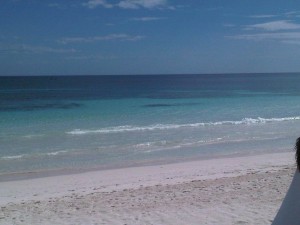 I have been fortunate to be living the dream for over 10 years now in Playa del Carmen. However, as many of you can relate especially if you live here, we often take the beach life for granted. We get caught up in up in our day to day lives and forget that there are beautiful beaches and the Caribbean Sea right in our own backyard.
With a reoccurring desire for travel whenever low season hits, I find myself remembering the conversation with my friend and I decided that it was time for my own well deserved staycation! Time to rediscover the places and experiences that made me fall in love with Mexico and explore all the new things that this rapidly growing state has to offer.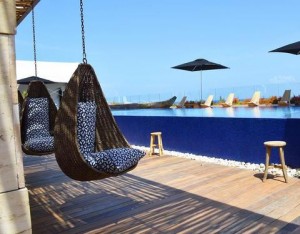 My staycation was off to a great start by spending several days in Playa discovering the many new places that have popped up recently. I really loved the roof top bars/pools, so with the help of some friends I dedicated an entire day to "roof hopping" we visited Cacao, SoHo and The Palm.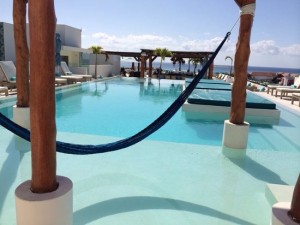 We had a great time and because we went on a weekday we mostly had the places to ourselves. Many of these locations offer a day pass for around $500 pesos to enjoy their roof top amenities which is applied towards your final bill. So if you need a break from the beach and want some fun and service check out what these hot spots have to  offer and see Playa from a different view.
For the ultimate staycation consider checking out an all-inclusive. Typically I would foo foo the resort vacation but I am going to tell you that for a couple of nights this is the perfect little get away! With no where you need to be or better yet no need to drive, go ahead and indulge in mimosas for breakfast, pina coladas for lunch with plenty of good food! I have stayed in many resorts with El Dorado Seaside near Puerto Morelos and Azul Fives being at the top of my list. Ask for local discounts or seasonal specials.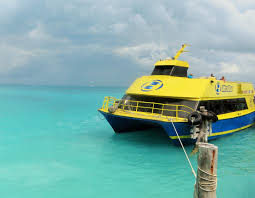 Isla Mujeres- This Island has always been a staple in my diet of fun and relaxation!
Upon arriving in Cancun I was a little sad to discover that the local, smaller ferry which I had always taken in the past has shut down. So for the first time I took the large ferry and found it equally pleasurable to sit outside and enjoy the ride.
The turquoise blue waters while crossing from Puerto Juarez to the Island are some of the most amazing I have ever seen, this view never fails to give me goose bumps!
I am continually charmed by the quaintness of the island along with the most beautiful beaches. In fact locals inform me that the north beach did not experience any seaweed buildup which inundated many Caribbean beaches this year. What a delight with blue, blue water and a refreshing drink in my hand. I find Isla (what we affectionately call it) to be laidback with live music everywhere, happy hours at every turn and 2 for 1 drinks! Stay in a little hotelito with basic accommodation (most with mini fridge and a/c) for around $50usd.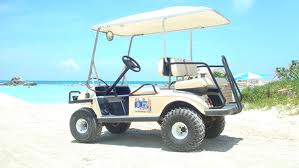 With its pristine beaches it would be easy to do nothing other than sun bathe, but if you have never been to Isla, I recommend renting a golf cart to cruise around the Island for the day. Best bet is to rent for 24 hours so you can relax and take your time. Head to the south end of the island which is the highest spot for some breathtaking views. There are many cool spots along the way including a drive through beer store! Genius. A great place to lunch or hang out for a bit is Zama beach club, it's a chic place with a relaxing vibe. Of course I LOVE the reggae bar (owned by El Patio in town) where you can try some habanero infused tequila, yum.
Richie's Island is near Zama and was featured in National Geographic many years ago. He lives on this fully functioning island made entirely of recycled plastic bottles which he has tethered together. The mangroves and tree roots have eventually grown around the bottles stabilizing it to hold his house and every other inventive thing he has built! Ring the bell and take a tour…don't forget to bring a donation. Check out this you tube video if you'd like to learn more about it 
Regardless of all the fun and relaxing things there are to do when visiting Isla Mujeres, for me an absolute must do on the island is watching the sunset on north beach…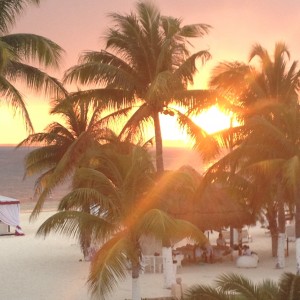 whether you pack a cooler or sit at a beach club the view is always spectacular. Followed by dinner at El Patio and then enjoy the night away at any of the live music venues.
Enjoy Isla Mujeres, I know I sure did!
Where is your favorite staycation spot? We'd love to hear from you!
Next stop is Punta Allen where I aim to discover a new route to get there and revisit the dolphins who live in Ascension Bay. Will keep you posted where this curious wanderer travels!
Written by Susan deLima